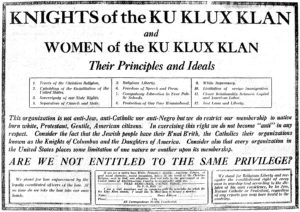 *What disappears in the discussion of motherhood and faith is the relationship of both to race.*
In 1924, Robbie Gill, the Imperial Commander of the Women of the Ku Klux Klan (WKKK), gave a speech entitled "American Women" at the annual Klonvocation (Klan speak for convention) of the Ku Klux Klan (1915-1930). She proclaimed:
We women of America love you men of America….We will mother your children, share your sorrows, multiply your joys and assist you to prosper in the way of this world's good. In return, we expect you to recognize our power for good over your lives, and in the nation….We pledge our power of motherhood to America….Our knees can be the altars of patriotism to them.
For Gill, just as mothers parented children, they could also parent the nation. Maternity functioned as a claim to authority in public spaces, and she let Klansmen know that women as mothers could change the nation for the better. Gill, however, was not satisfied to let men (even Klansmen) dictate national politics and policies. (more…)