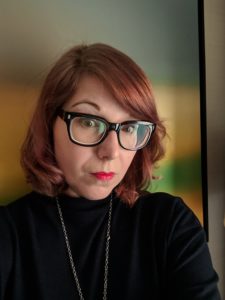 I'm the editor of Women in Higher Education, a feminist newsletter, in its 27th year, with the  continued goal "to enlighten, encourage, empower and enrage women on campus." And I'm the managing editor of Disability Acts, a magazine for disability essays, screeds, and manifestos by disabled people for all people.
I'm also a freelance writer with a religious studies PhD who covers religion, higher education, gender, labor, motherhood, and popular culture. I prefer to be an essayist, but I'm also a trained historian and reporter. I've written for The New York Times, The Atlantic, The Rumpus, Religion & Politics, Christian Century, Washington Post, The Chronicle of Higher Education, Killing the Buddha, Sacred Matters, and Brain, Child. (My full portfolio of clips is available either here.)
I'm the author of the award-winning Gospel According to the Klan: The KKK's Appeal to Protestant America, 1915-1930 (University Press of Kansas, 2011); The Zombies Are Coming!: The Realities of the Zombie Apocalypse in American Culture (Bondfire Books, 2013); Grace Period: A Memoir in Pieces (Blue Crow Books, 2017); the award-winning Sexism Ed: Essays on Gender and Labor in Academia (Blue Crow Books, 2018); and Final Girl: And Other Essays on Grief, Trauma, and Mental Illness (Blue Crow Books, 2019).
When I'm not writing assignments or wrangling two children, I'm working my way toward a collection of essays about endings and other apocalypses and two books on zombies and their apocalypses, one on the fictional apocalypses Americans consume and the other on those folks who want the zombie apocalypse to be real.
My PhD (2008) is in American religious history from Florida State University's department of Religion. My scholarship encompasses a variety of  topics including religion and popular culture, religious and racial hatred, apocalypticism, religion and gender, and horror. I've taught courses on these topics at Florida State University, University of New Mexico and University of Tennessee. For those of you who are academically inclined, here's my CV.