University Press o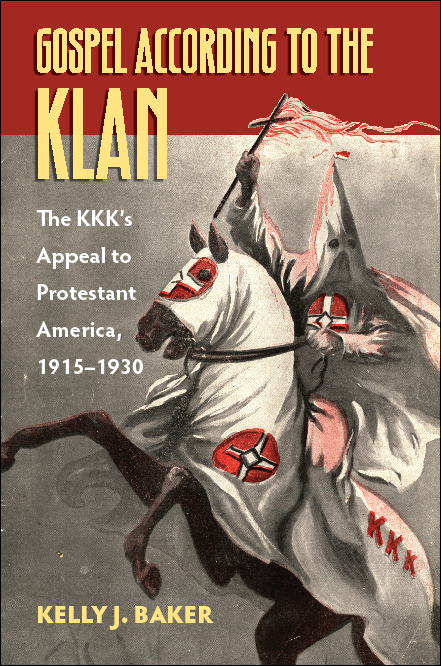 f Kansas now has an official website for Gospel According to the Klan, which will be available in September.
Here's a preview:
To many Americans, modern marches by the Ku Klux Klan may seem like a throwback to the past or posturing by bigoted hatemongers. To Kelly Baker, they are a reminder of how deeply the Klan is rooted in American mainstream Protestant culture.
Most studies of the KKK dismiss it as an organization of racists attempting to intimidate minorities and argue that the Klan used religion only as a rhetorical device. Baker contends instead that the KKK based its justifications for hatred on a particular brand of Protestantism that resonated with mainstream Americans, one that employed burning crosses and robes to explicitly exclude Jews and Catholics.
To show how the Klan used religion to further its agenda of hate while appealing to everyday Americans, Kelly Baker takes readers back to its "second incarnation" in the 1920s. During that decade, the revived Klan hired a public relations firm that suggested it could reach a wider audience by presenting itself as a "fraternal Protestant organization that championed white supremacy as opposed to marauders of the night." That campaign was so successful that the Klan established chapters in all forty-eight states.
Baker has scoured official newspapers and magazines issued by the Klan during that era to reveal the inner workings of the order and show how its leadership manipulated religion, nationalism, gender, and race. Through these publications we see a Klan trying to adapt its hate-based positions with the changing times in order to expand its base by reaching beyond a narrowly defined white male Protestant America.
Here are the blurbs:
"An original and sobering work. In the present age, when we may no longer pretend that the lines between violent fanaticism and religious fervor are clearly discernible, this book makes a timely and urgent intervention. Hatred may have more to do with religion than we care to acknowledge."—David Morgan, author of Protestants and Pictures: Religion, Visual Culture, and the Age of American Mass Production
"An important contribution to Klan scholarship that gives sustained attention to the centrality of Protestant Christianity in the construction of the movement's identity."—Rory McVeigh, author of The Rise of the Ku Klux Klan: Right-Wing Movements and National Politics
The book is now available for pre-order via Amazon, which has to be coolest thing I've ever seen.