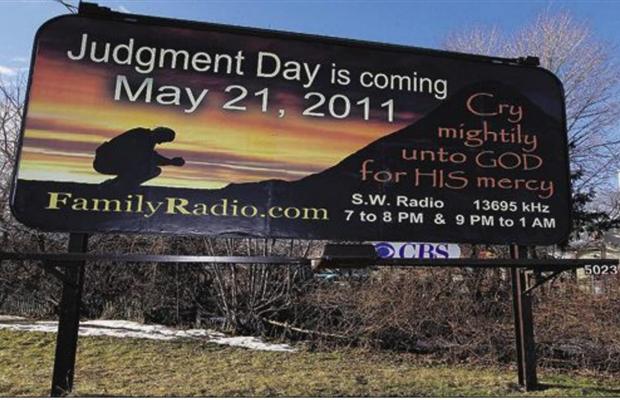 Historiann posted on the historical legacy of end of the worlders last week, and I couldn't resist reflecting on this topic over at Religion in American History because the mainstream news media are discussing the ins and outs of the Rapture. How did that happen? Why are we so concerned? The concern makes sense if you follow Tim LaHaye's logic that first responders, pilots, nurses, and doctors will all be the first to be raptured. If you don't, then what is the appeal of the Rapture? Why is the coverage mostly on the Rapture and not on the proclaimed Judgment Day? Perhaps, the Rapture has become coded as the sign of the end with littered clothing, abandoned cars, and forlorn pets.
Though I would also like to say that considering the number of articles written about the current doomsday prophet du jour entitled "Apocalypse Now," I would never consider that the working title for my project on American apocalypticism. It is clever once, but twenty or so times later, not so much.
Here's a snippet for reading pleasure:
The beauty of millennialism is not in its rigidity but its malleability and adaptability. Camping fits securely into a long line of doomsday prophets, millennial visionaries, and according to the less gracious, religious hucksters who prey on people's fears, money, and naiveté. Huckster or not, I don't really care. Rather, I do care about what Camping's media-frenzied stint says about the pervasiveness of millennial fervor in North America and the popularity of the vengeful fantasies of judgment that inundate apocalyptic belief, practice, and products.
As someone with an ongoing scholarly obsession with the apocalypse, consumption, and materiality, I am surely following my bliss this week with each mention, web click, Facebook status update, and journalistic attempt to understand the appeal of Camping and his billboard/caravan campaigns. The coverage of the impending Rapture runs the gamut of pet care services for the dogs, cats, and iguanas of the Raptured to Richard Dawkins' grumpy commentary about said press coverage to Killing the Buddha's Apocalypse Week 2011 to Salon's explanation of Camping's mathematical equations and dating of the end. The coverage ranges from somewhat sympathetic to downright hostile. Some admirably tie Camping a larger history of millennialism in North America, while others declare him a false prophet outright.
In August, I have an article coming out on rapture readiness (seems a little late considering the climate now), in which I document two other sources of Rapture information and practice, the prophecy work of Tim LaHaye and RaptureReady.com to document how the Rapture emerges as not only rhetorical and absent but also material and present. Continue reading here.