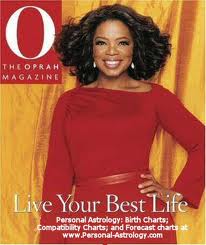 In the film, Monsters vs. Aliens, a delightful riff on alien encounter of movies of the 1950s, aliens appear, they aren't nice, and the clueless U.S. government headed by an equally clueless President (Stephen Colbert) attempts to find a ready solution to the alien menace. As the staffer, generals, and advisors make rapid fire suggestions, one staffer proclaims: "It is at times like these that I wonder: What would Oprah do?" In the face of disaster, Oprah becomes the go-to guru of not only self-empowerment but also national salvation. What would Oprah do, indeed?
In her new book, Kathryn Lofton engages not only what Oprah does but what she is. The Immanent Frame posted an interview with  Lofton about Oprah: The Gospel of an Icon (2011). While I will blog about the book later (I need to crack the packaging), the interview gets to what is at stake in the study of Oprah, her show, her brand, her influence for American religious history.
Here's my favorite snippet of the interview:
NS: What is it about how American religious history is studied now that has left Oprah not well-enough understood?
KL: I would say that the "how" of what we study is less problematic than the way we cordon our topics, which is very much an inheritance of our role as seminary church historians. I want to see more books written about objects that seem unlikely for religious studies,such as those seemingly in the purview of pop culture, but also those from economic and political arenas. Moreover, I think our disposition toward our subjects is often too tender for our own good. If, on the one side, we've been formed by our seminarian genealogies, on the other, we inherit an abused mentality, one that flinches constantly at the possibility that elsewhere in the humanist ranks we're being mocked for proximity to the religious subject. And so we appear, I think, often too defensive of our topics, believing they need caretaking before exposure to the imagined Marxist menace. So, if there is a critical edge to the book, it is to goad us to be less worried about explaining our subjects to their cultured despisers, and instead to pursue the mediations of their belief systems, the multiple functions of their ritual reiterations, and the social systems to which they reply and in which they participate. (Emphasis mine)
This question of what *counts* as evidence for American religious history as what, perhaps, does not is a crucial one that I have struggled continually with in my work. What *counts* as American religious history? The interview with Lofton compounded questions that have plagued me for weeks about how to understand the role of popular culture, consumption, and "secular" millennialism in the context and essential to how we talk about Americans, religion and practice. What evidence if cordoned? What evidence do we despise? What evidence receives a free pass? What would Oprah do?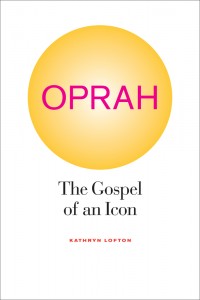 Oprah, by Lofton's standards, problematizes the work of American religious historians by injecting pop culture as a necessity to the larger vision of Americans and their religiosities. My particular interests are those "objects that seem unlikely for religious studies, such as those seemingly in the purview of pop culture, but also those from economic and political arenas." My first post on this new blog was on zombies and consumption, and obviously, zombies might not fit nicely or neatly into the canon (academic not weaponry). Lofton's interview suggests that there is also something clearly at stake in how we define something as religion and someones as the religious. (Moreover, there is something crucially important about the academic subjects we treat "tenderly" and those who do not merit such generosity.)
Gary Laderman's Sacred Matters takes us a similar call of addressing what Americans are devoted to, and according to this excellent book, Americans find sex, celebrity, science, music, and guns sacred. In December of 2010, Laderman reflected on what we believed: war, money, sexual boundaries and the natural world to name only a few. Laderman, like Lofton, pushes the boundaries of what is religion and makes us consider what tropes, narratives and themes we deploy to construct stories of the religious lives of Americans. The question becomes not so much what would Oprah or zombies do, but what does their study show? How might we use popular culture to craft stories and as historical evidence?
All of this preliminary posturing is a way for me to say that Lofton's book is now at the top of my reading list, and I can't wait to see what Oprah can do for American religious history.