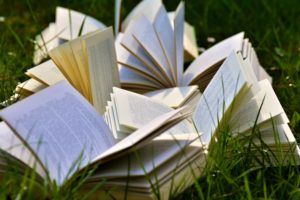 *Sometimes, a beginning feels like an ending at first.*
When I left academia, I kind of thought my life was over as a scholar, a teacher, a researcher & a writer. More than thought it, I felt it. In my marrow and sinew, in my flesh and heart. My life as I knew it was over. And I was pregnant with my second child, hiding from the Florida summer heat and all my expectations that I shattered with one final, albeit forced, choice. While I was hiding, I was also hedging. One day, I might return to academic life, I told friends, students, and colleagues, perhaps, this isn't the end. I hedged to make them feel better, which only made me feel worse about the loss and my inability to put together words to explain what was happening.
I've written about this before, many times before, but bear with me again. I thought my life was over at 32, almost 33, because everything I imagined for myself finally appeared hopelessly out of reach. I attempted to lean into the change by making a clean break, but my breaks are never quite clean. (The more I want them to be, the less they are.) Instead, I claimed I was in transition, a constant state of flux, which makes little sense for someone who hates change and craves routine, schedule, and rules to follow. And yet, I decided to write about what I couldn't say.
I started writing to figure out what had happened to me. I started writing to make sense of my past years training to be an academic but also to figure out what my future might be. I started writing not only about my life but also about higher ed to answer the questions that swirled in my head about the profession I thought I loved and understood, only to realize that I didn't know what that profession actually was. I started writing to figure things out and to try to save my own life by creating a new story of who I was and who I could become.