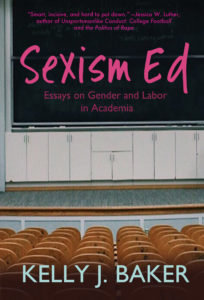 *We live in a patriarchy, but I had hoped that academia was somehow better than the culture surrounding it.*
So, I'm late on this (because deadlines and life), but Sexism Ed: Essays on Gender and Labor in Academia is now available for pre-order. As you might already know, this is my newest book, and it will be published on April 2. (Eek! That's less than two weeks from now.)
Here's the blurb:
Why aren't more women at the top of the ivory tower?
The academy claims to be a meritocracy, in which the best and brightest graduate students gain employment as professors. Kelly J. Baker, a Ph.D. in Religion, assumed that merit mattered more than gender. After all, women appeared to be succeeding in higher ed, graduating at higher rates than men. And yet, the higher up she looked in the academic hierarchy, the fewer women there were. After leaving academia, she began to write about gender, labor, and higher ed to figure out whether academia had a gender problem. Eventually, Baker realized how wrong she'd been about how academia worked. This book is her effort to document how very common sexism—paired with labor exploitation—is in higher ed.
Pulling very few punches, Baker writes about gender inequity, precarious labor, misogyny, and structural oppression. Sexism and patriarchy define our work and our lives, within and outside of academia. She examines not only the sexism inherent in hiring practices, promotion, leave policies, and citation, but also questions the cultural assumptions about who can and should be a professor. These problems, however, are not limited to the ivory tower. Baker also shows the consequences of sexism and patriarchy in her own life: hating the sound of her voice, fake allies, the cultural boundaries of motherhood, and the perils of being visible. It's exhausting to be a woman, but Baker never gives up hope that we can change higher ed—and the world—if only we continue to try.
In January, David Perry was kind enough to host a cover reveal for Sexism Ed, and I wrote a whole essay to go along with the reveal. (Why do I do this to myself?) Here's an excerpt:
What I found instead was that I would write about sexism, and later contingent labor, in the academy for the rest of my life. The limits that I thought I would encounter were not there. The academy has a gender problem. And it's not new. This shouldn't have surprised me. We live in a patriarchy, but I had hoped that academia was somehow better than the culture surrounding it. I had hoped that academia lived up to the progressive talk of academics. It also shouldn't have surprised me because I'm a trained historian. The historian's standard response, or maybe lament, is "This is not new." Historians show us again and again that the social problems that we encounter have longer lives that we expect and contexts that we've forgotten about.
So, please consider heading on over to Amazon or Barnes and Noble and pre-ordering your copy. I would greatly appreciate it.