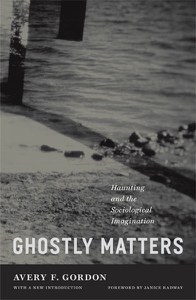 We need to know where we live in order to imagine living elsewhere. We need to imagine living elsewhere before we can live there–Avery Gordon
On a whim, I reread portions of Avery Gordon's Ghostly Matters: Haunting and the Sociological Imagination last week. I picked it up because I need convincing and cajoling. I needed someone to inspire me about research, scholarship, and revolutionary possibility. This is the book is one of a handful of books that inspires me about the academic craft; there are many, many more that make me dislike the academic craft as a whole. But, Gordon is enchanting as she conjures enchantment, haunting, and loss, both historical and personal. We are all haunted, and she demonstrates why this matters. She makes me imagine what scholarship could be like if only we let ourselves experiment more and worry less. She makes me feel that my scholarship can be valuable to our world by changing the way we look at people, things, systems, institutions, and culture. Her helping "hand" makes me want to ignore disciplinary boundaries and expectations. She provides a guide to writing in ways that conjure the past but also the historical present beyond linear narratives and obsession with dates. She inspires me to be a different scholar than the one I was trained to be.
To say that I love Ghostly Matters is too simple of an explanation; it feels like a trite attempt to describe my affection that doesn't hint at the depth of my emotion. This book forever changed the way I view the responsibilities, ethics, and the craft of scholars, and Gordon's encouragement leads me to think that scholarship can be something more than what we seem to limit ourselves to, if only we can take up her radical challenge. Maybe we could offer our helping hands to others to reimagine what we do and why we do it.
Gordon's tangled path is littered by absence, seething and demanding attention. Absence of knowledge, history, and evidence unsettles and discomforts, but more importantly, points to structural inequalities, terrible histories, and the consequences of the capitalist system. Ghosts appear and reappear. They stalk us. We are haunted by those who suddenly become visible. They are unfinished business. Ghosts reminds us of past injustices and the need for future reckoning. History is haunted; we are haunted. Haunting becomes unavoidable; it tells us something important. Gordon writes that haunting is:
a paradigmatic way in which life is more complicated than those of us who study it have usually granted. Haunting is a constituent element of modern social life. It is neither premodern superstition nor individual psychosis; it is a generalizable social phenomenon of great import. To study social life one must confront the ghostly aspects of it. This confrontation requires (or produces) a fundamental change in the way we know and make knowledge, in our mode of production (7).
"[L]ife is more complicated than those of us who study it have usually granted" is a sentiment that haunts me. This statement recognizes the sheer complexity of what we call life as well as the desire to fit the messiness of life into neat narratives that cleave away that what makes it the most fascinating. Life is more complicated than we have granted it and, possibly, too complex for us to easily explain (away).  What Gordon makes clear is that the common phrase "life is complicated" is not a banal, throwaway explanation provided when we have no clear answers, rather she notes that this phrase is "the most important theoretical statement of our time" (3). We often underestimate the analytical work of such a statement, which involves both power relations of particular times and places and "complex personhood." Gordon catalogs power:
Power can be invisible, it can be fantastic, it can be dull and routine. It can be obvious, it can reach you by the baton of the police, it can speak the language of your thoughts and desires. It can feel like remote control, it can exhilarate like liberation, it can travel through time, and it can drown you in the present. It is dense and superficial, it can cause bodily injury, and it can harm you without seeming ever to touch you. It is systematic and it is particularistic and it is often both at the same time. It causes dreams to live and dreams to die (3).
How we account for power in both "systematic" and "particularistic" becomes crucial to our renderings of life. Complex personhood is the other key component to Gordon's focus on life is complicated, which attempts to understand the ambivalence of human agency. Humans are equally as messy as the thing we call life. Complex personhood "means that all people (albeit in specific forms whose specificity is sometimes everything) remember and forget, are beset by contradiction, and recognize and misrecognize themselves and others" (4). More importantly,
Complex personhood means that the stories people tell about themselves, about their troubles, about their social worlds, and about their society's problems are entangled and weave between what is immediately available as a story and what their imaginations are reaching toward….Complex personhood means that even those who haunt our dominant institutions and their systems of value are haunted too by things they sometimes have names for and sometimes do not. At the very least, complex personhood is about conferring the respect on others that comes from presuming that life and people's lives are simultaneously straightforward and full of enormously subtle meaning (4-5).
Complex personhood makes me hesitant as a scholar to proclaim that I can know exactly what the people I write about want, dream, desire, imagine, or claim. My claims, at best, can be provisional. I can guess, but I can't know. It suggests that straightfoward is only a part of an explanation that cannot fully provide what we know about individuals or their lives. Subtle meanings abound, and they are more elusive.
Complex personhood reemphasizes both the tentativeness of what we can learn and write about another. They are opaque, even we think they are transparent. Transparency, the straightforward, is only one dimension to personhood, and we can never forget that.  Complex personhood forefronts narrative and imagination, institutions and power, labels and lack of labels, and knowledge and feeling. Gordon encourages respectful engagement with those we study and cautions against easy interpretations. Gordon's discussion of complex personhood signals the ambiguity of people and life. Her approach feels tentative and ethical. It abandons the folly of certitude and reduction for the ambiguous and the absent. I love it. Ghostly Matters makes me want to be a better scholar and person, and there aren't many books that accomplish this feat.