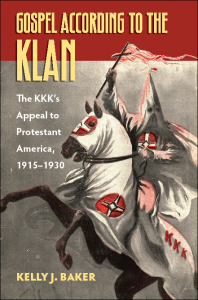 Well, folks, believe it or not, Gospel According to the Klan has now been out for three months, and slowly, the book is getting some reviews mostly online and at some news outlets. They are mostly good, (and sometimes they are tough). Additionally, I am still getting used the prospect of people reading (and buying) my book. So, here's what folks are saying:
Michael J. Altman, Remembering When the Klan Tried to March Through Town:
That said, Baker's book is an extremely important work. Her analyses of gender, nationalism, and material culture are strong and useful for anyone looking for a model. Furthermore, her use of the periodical literature and analysis of  representation and rhetoric offers me a model for my own work with representations of Hindus and Protestants in my sources. The chapters hold their own as individual readings and can be put to use in a number of undergraduate courses while the book as a whole ought to be a part of any seminar on race or nationalism and religion.
Just take the dust jacket off if you read it on an airplane–I discovered that the hard way.
(I feel like that line should be attached to all promotional materials. I included an image of the cover as a quick reminder of why that might be the case.)
Ina Hughs, Two New Books Offer Peak Behind the Klan's Sheets, Knoxville News Sentinel
From Baker's perspective, the Klan has a convoluted and somewhat misunderstood past. She puts a lot of focus on the religious implications of its history and the role religion plays in nationalism.
Kevin Boyle, The Not-So-Invisible Empire, New York Times
At the end of the book, though, Baker steps back from her texts. Suddenly her analysis becomes more pointed. Yes, the Klan had a very short life. But it has to be understood, she contends, as of a piece with other moments of fevered religious nationalism, from the anti-Catholic riots of the antebellum era to modern anti-­Islam bigots. Indeed, earlier this year, Herman Cain declared that he wouldn't be comfortable with a Muslim in his cabinet. It's tempting to see those moments as Pegram does the Klan: desperate, even pitiful attempts to stop the inevitable broadening of American society. But Baker seems closer to the mark when she says that there's a dark strain of bigotry and exclusion running through the national experience. Sometimes it seems to weaken. And sometimes it spreads, as anyone who reads today's papers knows, fed by our fears and our hatreds.
Kenny Paul Smith, A Brave New Book, Religion Nerd:
I have called Gospel According to the Klan a brave new book. This is so for two important reasons. Firstly, Baker has exposed something about American cultural history that many of us may not wish to see: namely, that both religion and mainstream society participate in the ugly, even violent, side of American nationalism….Secondly, Baker has also exposed something unpleasant about the rest of us, those who do not concur or sympathize with Terry Jones and feel repulsed by exclusionary religious nationalism (Christian or otherwise): namely, that we have a tendency towards forgetfulness, and towards imagining American history and the American mainstream in ways that reflect our own preferences.
Not too bad so far, I think. I'll post other reviews and commentary as they become available. Please feel free to post or send any feedback on Gospel directly to me. I would love to hear what other readers think, feel, like, hate, etc. about the book.